David Disko Named "Santa Fe Selects" Award Winner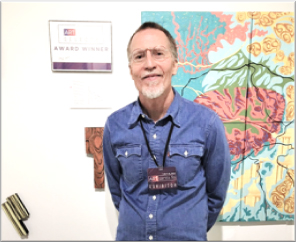 David received a "Santa Fe Selects" award at Art Santa Fe. Three of the 26 works selected were his. Art Santa Fe management called this "unprecedented".
Judges' comments:
"A fresh approach to maps, perspective and the landscape" (Mt. Taylor Flyover)
"Interesting dimensionality, palette representation, topographic shadow" (Deep Canyon No. 1)
"Beautiful, layered hand cut painted board that reflects a section of a New Mexico landscape. Intriguing from many angles" (Indiscriminate Section 1, Valles Caldera)
Visit ArtSantaFe.com.