David Disko Named "Santa Fe Selects" Award Winner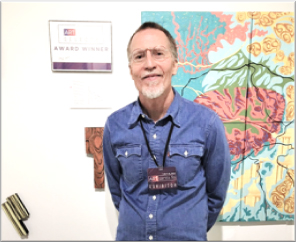 David received a "Santa Fe Selects" award at Art Santa Fe. Three of the 26 works selected were his. Art Santa Fe management called this "unprecedented".
Judges' comments:
"A fresh approach to maps, perspective and the landscape" (Mt. Taylor Flyover)
"Interesting dimensionality, palette representation, topographic shadow" (Deep Canyon No. 1)
"Beautiful, layered hand cut painted board that reflects a section of a New Mexico landscape. Intriguing from many angles" (Indiscriminate Section 1, Valles Caldera)
Visit ArtSantaFe.com.
David Disko Selected as UNM School of Law Art Galley 2019 Artist in Residence
The University of New Mexico School of Law Not-for-Profit Gallery has selected David as one of its 18 Artists in Residence for 2019. The artists' in residence 40 works are on public display in the Forum of the Law School at 1117 Stanford Ave NE, Albuquerque, NM and available for purchase through October 2019.